The Mathematics and Statistics Department is pleased to announce that Rebecca Santorella '17, a Junior Mathematics major, has been named a 2016 Goldwater Scholar. Rebecca, one of our department's extraordinary tutors, is a familiar face in the department. She has a long list of scholastic accomplishments, and we are very proud that the The Barry Goldwater Scholarship and Excellence in Education Program has recognized her gifts.
Rebecca is the third department major in a row, and the fifth major overall to be named a Goldwater Scholar.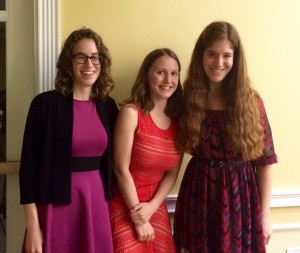 Alana Huszar '16 was named in 2015, and Syndi Barish '16, who is a double major with Biology, received it in 2014.  Other previous winners were Glen Wilson '10 and Nick Locantore '94.
Goldwater Scholars are chosen as a result of a highly selective national competition which honors exceptional undergraduate students who plan to pursue graduate degrees in the STEM fields and careers in research. The national-level Barry M. Goldwater Scholarship Program supports sophomore and junior students who intend to pursue a Ph.D. or M.D./Ph.D. in science, mathematics, or engineering.  The scholarship, which provides $7,500 per year for up to two years, is highly prestigious.  The program was created to encourage outstanding students to pursue careers in mathematics, the natural sciences, or engineering and to foster excellence in those fields.   Each year, the Goldwater foundation awards 300 scholarships nationwide.
More information is available on the program website (https://goldwater.scholarsapply.org/).